Chilliwack resident and former Iranian torture victim Ghazaleh Nozamani is among several individuals and Iran-connected organizations asking Canadian Members of Parliament (MPs) to sponsor Iranian detainees in an effort to stop their executions.
After participating in student protests in Iran in 1999, Nozamani was tortured in a detention centre and then dropped off in the countryside.
The then-20-year-old survived and spent the next decade working on human rights issues and helping operate an orphanage in Iran. She was sponsored by a Chilliwack church in 2017 and has lived here ever since.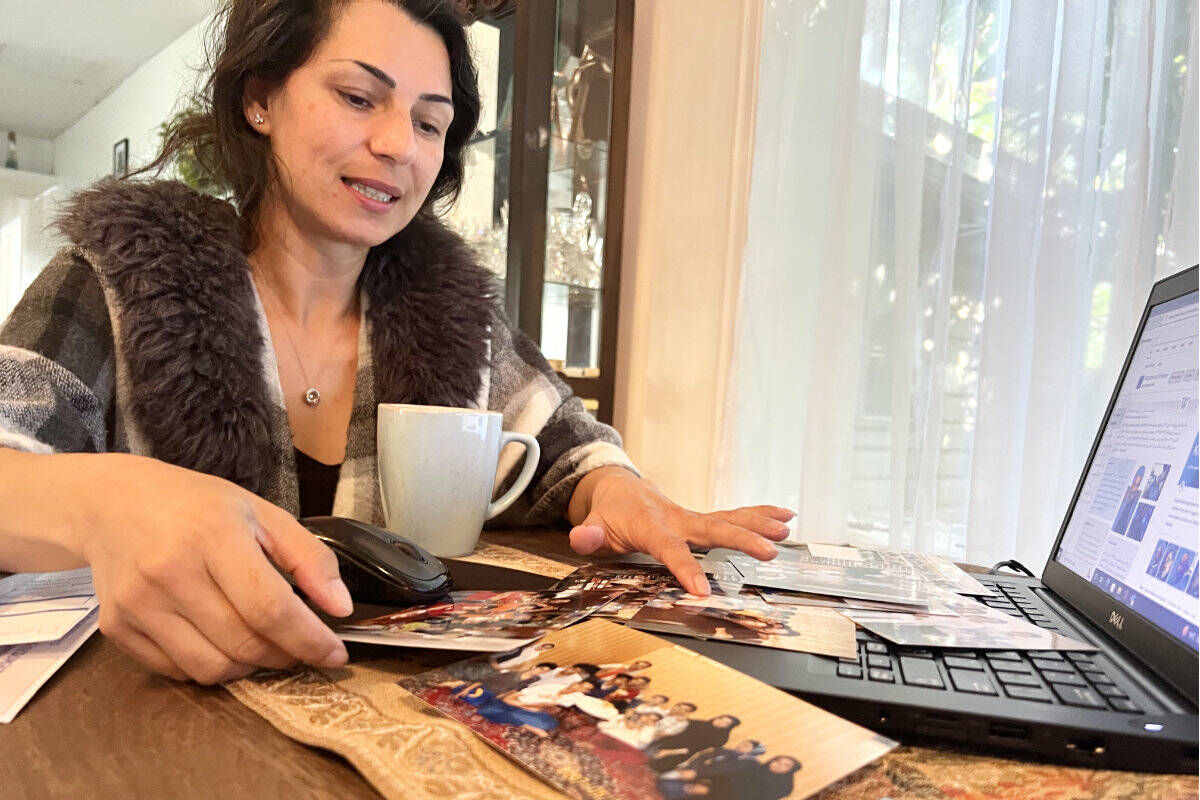 She works as a Red Seal certified insulation estimator. In her role as the political committee leader in her union, Heat and Frost Insulation Local 118, she sent out a letter to 256 MPs to encourage the politicians to "bail out protesters" detained in Iran.
"Whoever bails someone out doesn't have any practical or legal rights in the Iranian judiciary system, but we can hope that the person they bail out gets more international attention and time to stay alive."
Nozamani calls the Iranian regime a terrorist state capable of not only assassination, but causing economic turmoil in other countries as well.
"People in Iran require immediate action," she wrote.
Some politicians in Europe stepped up in December to sponsor detainees, and they publicly talk about them on Twitter, and post when they get updates on the status of those individuals. Ye-One Rhie, an MP in the German Bundestag, sponsored Iranian rapper Toomaj Salehi who was arrested on Oct. 30, 2022 during the protests over the death of Mahsa Amini, who was killed for wearing her head scarf improperly.
As recently as Jan. 10, according to Rhie's Tweets, Salehi was still alive, if suffering with a serious eye injury in custody.
In response to the request from Nozamani and other Iranian groups in Canada, nine federal Liberal MPs stepped up to sponsor detainees. In a Dec. 31 press release, the MPs explained the political sponsorship, and each listed at least two Iranians they are speaking up for.
"We know that endorsements by elected officials in Europe have already brought the plight of detainees to the forefront and have declared to the regime that they are being watched – that there are advocates keeping track of the lives and well-being of many of the victims of the violent crackdowns imposed by the ruling regime."
Among the Canadian MPs sponsoring detainees is North Vancouver's Jonathan Wilkinson who is endorsing Dr. Hamid Ghare-Hassanlou, his spouse Farzaneh Qareh Hasanlu, and 16-year-old Mohammad Rakhshani.
A day after the press release, Wilkinson Tweeted: "We commit to speaking the names of these detainees, to remind the Iranian government that we are watching and that we condemn Iran's ongoing human rights violations and systemic pattern of oppression."
Cloverdale-Langley City MP John Aldag is endorsing Dr. Farhad Meysami and Mohammad Ghobadlou. As recently as this week, there were petitions and protests against the pending execution of Ghobadlou.
On Thursday (Jan. 12), Aldag re-Tweeted an Amnesty International video including Ghobadlou's mother.
"Any parent can share the pain and anguish of #MohammadGhobadlou mother. She is in the video pleading for her son to be released."
Any parent can share the pain and anguish of #MohammadGhobadlou mother. She is in the video pleading for her son to be released. #StopExecutionsInIran and release these people. The Islamic Republic of Iran must stop jailing anyone who wants to voice their opinion. #farhadmeysami https://t.co/lLldba4Vql

— John Aldag (@jwaldag) January 13, 2023
In their press release, the MPs wrote that the individuals named are valued and are in their thoughts as they suffer at the hands of a brutal regime
"These individuals will be followed on our social media, and we will remind those in power that they must not flagrantly ignore universal human rights, international laws and individual freedoms that must be affirmed and assured for every person."
A noble project to be sure. But will it work? The most cynical on Twitter suggest this will only delay the executions of those on the list, which is, arguably, still something.
But if the movement spreads as it has now from Europe to MPs in Canada, it might. Regimes such as Iran despise having their internal dirty laundry shared with the world.
As for Chilliwack-Hope MP Mark Strahl, as of Wednesday, Nozami hadn't heard back. I also emailed Strahl to ask if he would consider it and if not, why not. I heard back Jan. 11 (after our print press deadline).
"Thanks for your email regarding Ms. Ghazaleh's efforts on bringing attention to detainees in Iran," Strahl said. "I had a telephone meeting with Ms. Ghazaleh last month, and this issue did not come up. I will always work with my constituents to advance the cause of human rights in Iran and believe that the Liberal government needs to take meaningful steps to support the Iranian people and condemn the Iranian regime."
Strahl emphasized that it is long past time for the government of Canada to list the Islamic Revolutionary Guards Corps (IRGC) as a terrorist organization under the Criminal Code of Canada.
"The murder of Mahsa Amini adds to the long list of violations of human rights committed by the Iranian regime.
"Conservatives stand with the people of Iran in their fight for freedom. It's time for the Trudeau government to do the same and list the IRGC as a terrorist entity."
Nozamani told me this week that she thinks the more politicians are persuaded to sponsor detainees, the more lives can be saved.
"If the Islamic Republic of Iran murders them, more pressure will be applied to them via human rights and the UN for their actions. Germany, Norway, and Belgium are also involved in this movement."
Nozamani knows just how brutal the regime can be to its own citizens, she's seen and felt it first-hand.
---
Do you have something to add to this story, or something else we should report on? Email:
editor@theprogress.com
@PeeJayAitch
Like us on Facebook and follow us on Twitter.