As B.C. police forces struggle to recruit into their ranks, in-part influencing the chronic shortages being seen in both rural and city detachments, one Alberta police service has been using a similar strategy to that of their government in attracting British Columbians to move cross-province.
Calgary Police Service was in the Lower Mainland this fall, in hopes of recruiting police hopefuls in the neighbouring province. Const. Andy Buck, with the recruiting unit, said about 20 per cent of the detachment's applications come from B.C.
He said Calgary has seen an increase of 20 to 30 per cent in applications to the service, "which seems to be different to a lot of areas in the country."
In B.C., the RCMP is facing shortages in the hundreds due to a number of reasons such as a lack of funding – whether that be from the municipality or the province – for roles that have been historically hard to fill, as well as those on sick leave, maternity or paternity leave or suspensions.
In Buck's recruitment work, the most common reason for people interested in Calgary Police and moving to the city is the cost of living.
"These are all facts that we currently know. Housing and rental costs – very expensive housing – in B.C. are the driving factors," he told Black Press Media on Oct. 4 as Calgary Police held a test for potential recruits in Surrey.
"There's no provincial sales tax in Alberta, so salaries are comparable, but your money is going to go a little further."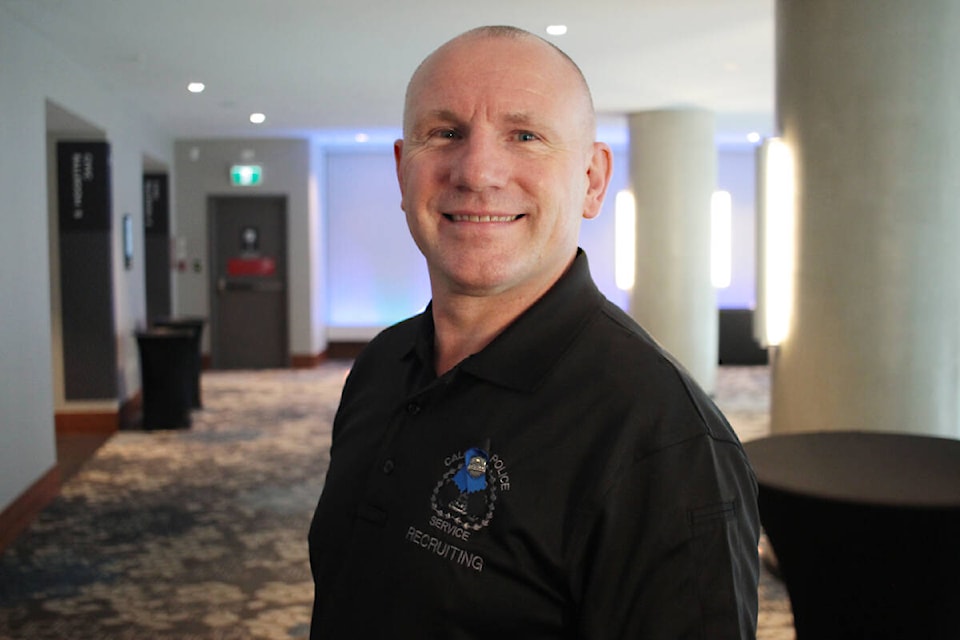 Calgary recently came in at number one on Condé Nast's 2023 friendliest cities in the world, beating out Canadian cities like Quebec City, Victoria and Edmonton as well as other international cities such as Dublin and Mexico City.
"It's statistically ranked in the top 10 most livable cities in the world, 330 sunshine days a year. There's lots of things that could potentially draw people. But we're finding that people are already aware of these things. And it's as a result of that, and their decision to make that they're in coming to us."
The interest by British Columbians to move to Alberta has increased in recent years. During the height of the pandemic, the Alberta government launched a head-turning campaign targeting young people in B.C. with a on the "affordable, friendly and rich-in-opportunity" lifestyle available in the province.
Police forces are 'aggressively recruiting' in B.C.
While Victoria also made it onto the Condé Nast's friendliest cities list, the region faces some unique situations when recruiting for the Victoria Police Department, explained director of community engagement Cheryl Major.
READ MORE: Victoria ranked as Canada's third most expensive city: study
"One, is the cost of living is not low in Victoria. It absolutely is difficult to attract people from across the country when we've got the third-highest cost of living in the country," explained Major. "The makeup of the region can be, on paper, a deterrent. So for example, we have a high caseload per officer here in Victoria, and we have a high crime rate for VicPD jurisdiction and a lot of that is specifically because of makeup of the municipalities."
VicPD is looking to hire 24 new recruits in 2024, which is the most they've ever needed to hire. Historically, the department would hire between five and seven each year.
"Everybody is aggressively recruiting, we're all coming up on a generation of police officers who are ready for retirement and we're looking to replace those in many different ways. There's definitely a lot of factors, but I think everybody's facing sort of the same things."
Major said VicPD tries to offset the challenges with a $20,000 hiring bonus for experienced officers.
What sets the capital-area police force apart from others in the province, however, is their chosen strategy to not actively recruit outside of the region.
"Our focus is on connecting with persons who have an interest in being on Vancouver Island and Victoria Police Department specifically, and the opportunities that we offer."
Other detachments in B.C., like Vancouver Police Department and Surrey Police Service, have done recruiting both in and out of province. Vancouver Police recruiters are even heading to Calgary at the end of October.
VPD Const. Tania Visintin said the department isn't struggling to hire, with 100 officers already hired so far this year and 75 hopefuls by the end of the year. The department currently has 1,448 sworn officers in 2023 compared to 1,348 in 2022, although as the largest force in the province, there is fluctuation of new hires versus those leaving.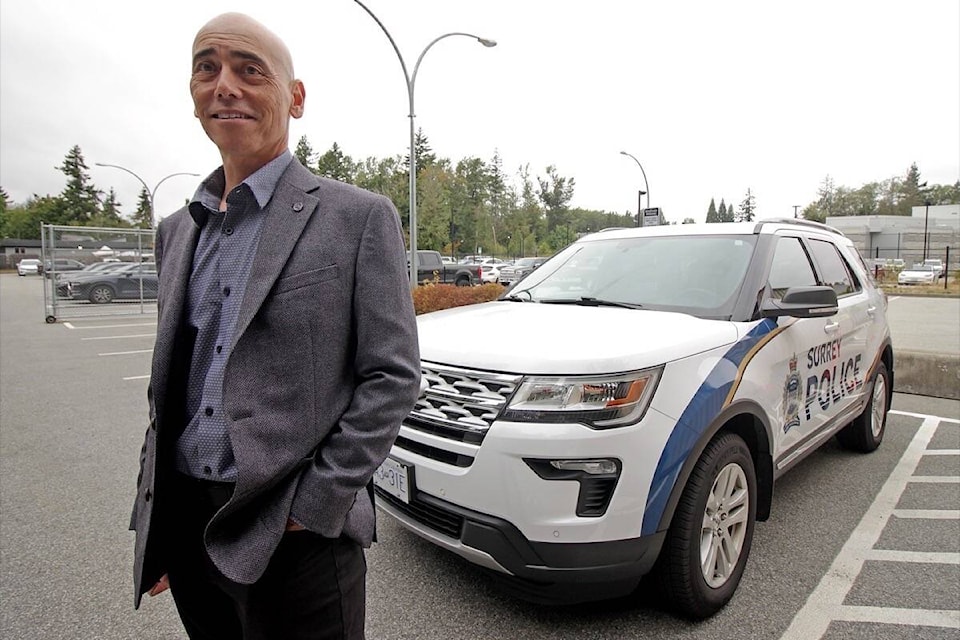 Meanwhile, Surrey Police Service is facing an unusual predicament: The city is in the process of a transition from the RCMP to a municipal service, which has put a pause on hiring, according to the service's media specialist Ian MacDonald. SPS has hired 400 sworn and civilian staff, but have only 200 of these officers working on the frontlines alongside Surrey RCMP until the transition concludes.
MacDonald said the fledgling detachment has managed to recruit officers to make the move to Surrey from 26 different agencies across Canada. The bulk of Surrey's police officers come from B.C., but a "fair amount" also come from Ontario, which has similar cost of living.
READ MORE: B.C. has highest cost of living in Canada: Study
A recent study released by Westland Insurance showed B.C. to have the highest cost of living in the country, scoring 79 out of 100, with Ontario close behind at 71.
Ultimately, MacDonald said SPS supports other agencies and their need to recruit.
"At the end of the day, regardless of which province or perspective you're looking from, there obviously needs to be more police officers."
READ MORE: B.C. Premier Eby promises $230M in police funding for RCMP vacancies, new hires
But MacDonald takes a longer-range view.
"Oftentimes what you'll see is when there, you know, is identified sort of a shortage in a certain industry or career path. It's usually followed with an uptick in interest in in that profession, right. So sometimes it's people that maybe haven't considered it."
For B.C. RCMP's E Division Commanding Officer Dwayne McDonald, police departments recruiting outside of their jurisdiction is fair game.
"As the RCMP, we're recruiting to everybody's backyard."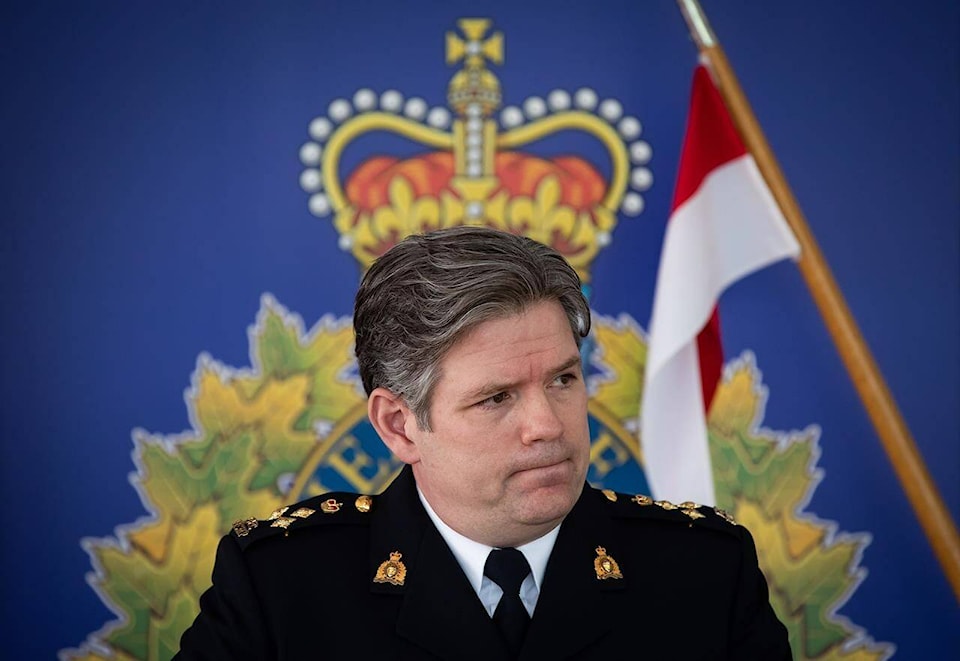 Outside of city police forces, the remaining communities with an RCMP force – more than 130 – continue to face chronic shortages. April stats cited by Public Safety Minister Mike Farnworth gauged roughly 1,500 RCMP vacancies across the province. McDonald said those number are still relatively similar.
The majority of those are "soft" vacancies where members are on sick leave, maternity or paternity leave or suspended. There are about 500 "hard" vacancies, McDonald said, meaning that they are fully open positions, although in many cases not currently funded to be filled.
Last November, Premier David Eby promised $230 million over the next three years in police funding for RCMP vacancies in rural detachments and regional units, as well as to hire more officers for specialized units such as major crime, the sexual exploitation of children unit and money laundering. That funding is aimed at allowing the provincial police service to reach its full strength of 2,602 members.
B.C. RCMP said it has high retention of its regular members, and while there is typically a slightly elevated attrition within the first two to three years of service, as some leave for other detachments or careers, the "majority of departures are due to retirement."
With respect to new cadets or recruits, the Mounties have seen a "significant increase in applications" perhaps due to changes internally that gives more opportunity for an officer to work in their home province.
At Depot, the RCMP's training facility, there are about 40 troops of 32 cadets each that cycle through the 26-week training. A third of those cadets end up in B.C. as the province represents about a third of all RCMP resources across the country.
RCMP E Division Commanding Officer Dwayne McDonald said B.C. has the luxury of having so many diverse postings, "but because we're so big, we have the luxury of taking kind of the lion's share of cadets." In B.C., new recruits could be heading to far northern postings where there's only two or three members, they might have to fly in or take boat to their posting or it could be right in their backyard.
"The vast geography that this province offers either presents challenges or benefits depending on what kind of applicant applies."
McDonald said B.C. has it all, adding that the Lower Mainland poses very different challenges such as an increased cost of living, and the accessibility or availability of housing.
Do shortages stem from a culture shift or industry influx?
The larger picture, Major said, is that fewer people are willing to take on policing as a career.
"Values have changed and people are less willing to take on this kind of work is the impression that we're getting."
McDonald said that in the last few years, "and for a variety of legitimate reasons," policing as an industry has been cast in a negative light and a profession that brings distrust.
"Certainly in Canada, we often import a social narrative about policing from other countries, particularly from the U.S., that I would argue isn't necessarily true in Canada."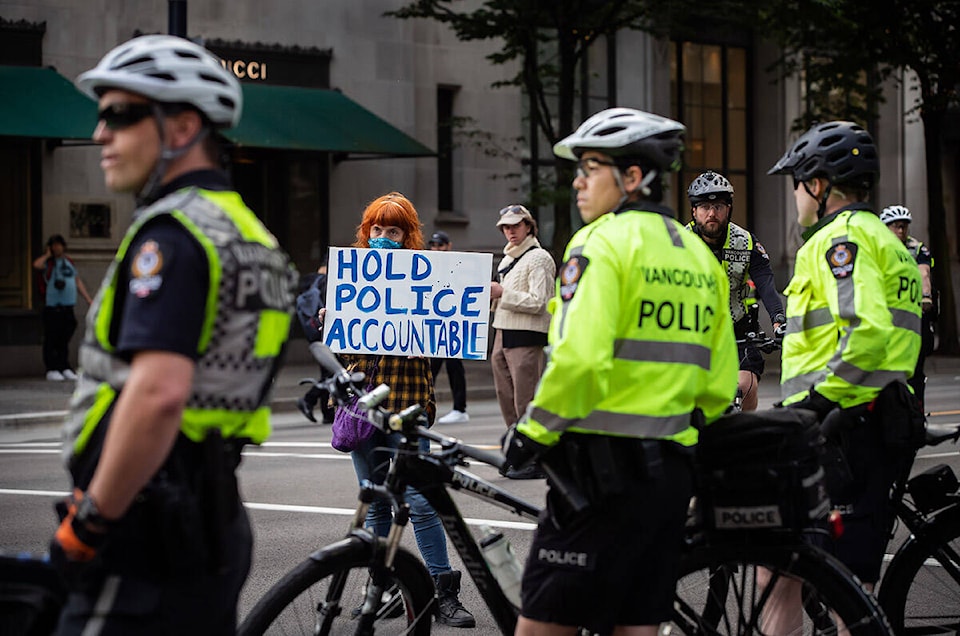 In Canada, Indigenous people, racialized groups and those street-entrenched have spoken out about injustices they've faced from police. A lawsuit filed in 2021 alleged RCMP systematically brutalized Indigenous people in northern Canada.
READ MORE: History of systemic racism between RCMP and First Nations must be addressed: B.C. chief
In April 2022, a Special Committee on Reforming the Police Act released a 96-page report that include 11 recommendation that would "transform policing and community safety" and outlined a new vision for policing and community safety rooted in decolonization, anti-racism, community and accountability."
Promised reforms have since been delayed to 2024.
A 2022 investigation by The Canadian Press found police in Canada shot 87 people between Jan. 1 and Nov. 30, 2022. Forty-six of those were fatal.
B.C. had the most police shootings with 35 in 2022, up from 26 in 2021 and 15 the year prior. VPD was involved in six of the 2022 police shootings.
READ MORE: Police shootings in 2021: Experts say number in Canada remains too high
In B.C., officer-involved shootings – along with all officer-related incidents that result is serious harm or death – are investigated by the Independent Investigations Office of B.C. to determine any allegations of wrongdoing by the officer.
However, the IIO doesn't compel officers who are the subject of an investigation to submit notes, reports or data. Of the 50 publicly released reports by the IIO in 2023 as of Nov. 10, only three included some form of notes or interview from the subject officer.
There are also the concerns around safety as a police officer.
"Policing is by-and-large a safe job when you look at the numbers of police that are either injured and or killed in the line of duty. Compared to other industries, it is incredibly safe."
Ridge Meadows RCMP officer Const. Rick O'Brien was killed in the line of duty in September. When that happened, RCMP were also preparing to commemorate the one-year anniversary of Burnaby RCMP Const. Shaelyn Yang, who was also killed while on the job.
"In the last 12, 14, 16 months we've had more police officers killed in Canada than ever before. The job is still safe. There's things you can control and things you can't."
Despite that, McDonald said larger-interest crimes that put police notably on the frontlines can sometimes lead to an increased interest for applying.
"It reminds people of the nobility of that profession and the calling and there are those that may shy away from it because it is a stark reminder of what could be the consequences."
READ MORE: Is it time for a B.C. provincial police force as communities grapple with public safety?
– With files from The Canadian Press